TEAM ::: NEW JERSEY CARDINALS
LOCATION ::: AUGUSTA, NEW JERSEY
MY FIRST GAME ::: JULY 7, 1995
OPPONENT ::: ERIE SEA WOLVES
LEVEL ::: NEW YORK - PENN LEAGUE A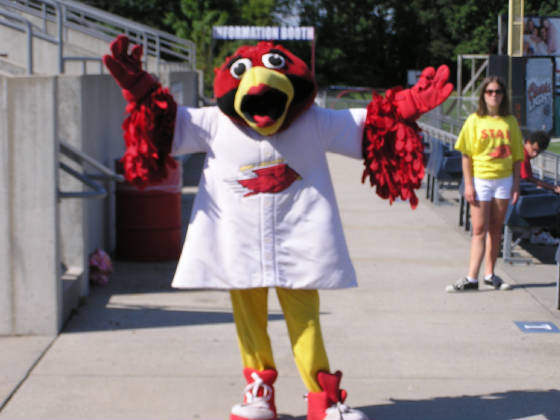 RATINGS
BALLFIELD ::: B
SCOREBOARD ::: C
FOOD ::: C
FACILITES ::: B
MASCOT ::: B-
MY TAKE ON THE PARK
ON OCTOBER 3,2005 THE NEW JERSEY CARDINALS ANNOUNCED THAT THEY HAD BEEN SOLD TO A GROUP WHO WILL BE MOVING THE FRANCHISE TO STATE COLLEGE, PENNSYLVANIA.
AS OF NOVEMBER 2005, THERE ARE NO PLANS FOR ANY AFFILIATED TEAM TO PLAY AT SKYLANDS PARK IN 2006 HOWEVER, INDEPENDENT LEAGUES ARE
LOOKING AT THE POSSIBLITY OF PLAYING HERE IN 2006.
THE STATE COLLEGE SPIKES WILL REMAIN THE NY-PENN LEAGUE AFFILIATE OF THE CARDINALS FOR 2006 AND BECOME THE AFFILIATE FOR THE PIRATES IN 2007.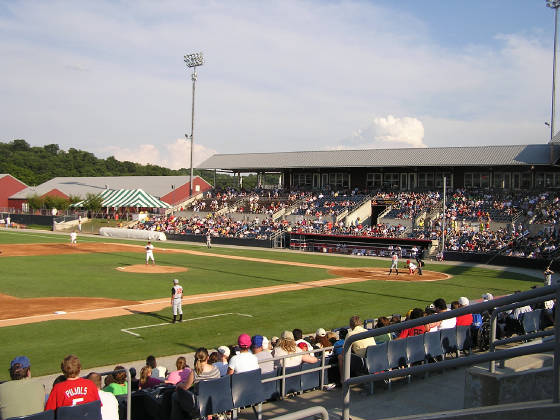 SKYLANDS PARK IS LOCATED ABOUT 15 MILES NORTH OF INTERSTATE 80 ON ROUTE 15 IN SUSSEX COUNTY. THE DRIVE ALONG ROUTE 15 HAS CHANGED QUITE A BIT OVER THE PAST 12 YEARS. CURRENTLY, RTE 15 IS A WIDER ROAD WITH LESS FARM LAND THAN THERE WAS IN '94. WHAT HASN'T CHANGED IS THE FIRST VIEW OF SKYLANDS PARK. THE MAROON EXTERIOR AND FAR OFF THE ROAD SETTING ALWAYS MADE THIS LOOK LIKE A DAIRY FARM WITH LIGHT TOWERS.

ONCE INSIDE THE STADIUM, IT WAS THE STANDARD SHORT SEASON PARK WITH
STANDS RUNNING FROM SHORT LEFT TO SHORT RIGHT FIELD. TWO LEVELS OF
SEATING SEPARATED BY AN AISLEWAY WITH CONCESSIONS UNDER THE SEATING AND HAVING NO VIEW OF THE FIELD. SOME MAKE SHIFT STANDS WERE SET UP ALONG THE AISLEWAY BUT THAT WOULD ALSO CLUTTER UP THE AISLEWAY EXTENDING THE RETURN TO YOUR SEAT. OVER THE LAST FEW YEARS, HOWEVER, LARGE CROWDS WERE
NEVER REALLY A PROBLEM AT CARDINAL GAMES.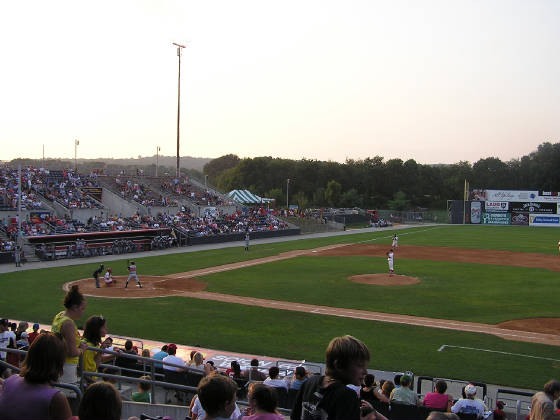 ONE OF THE BIG PROBLEMS THAT ALWAYS SEEMED TO BE HERE WERE THE
FACILITIES. THE BATHROOMS WERE SMALL AND OLD, I BELIEVE THERE IS ONLY ONE SET OF BATHROOMS IN THE PARK. THE PARKING WAS ALWAYS PLENTIFUL BUT AT $4 PER CAR YOU WOULD THINK IT WOULD BE PAVED AND FREE OF CRATERS, NEITHER WAS THE CASE. ON TOP OF THAT THERE WAS ONLY ONE ENTRANCE AND EXIT SO EVEN WITH A SMALL CROWD, THERE WAS STILL A LONGER THAN USUAL
WAIT TO LEAVE.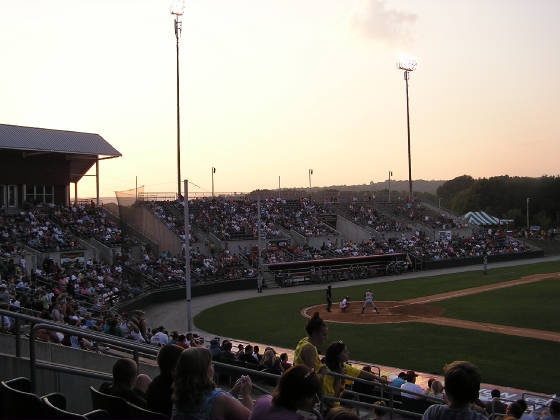 SKYLANDS PARK WILL BE MISSED BY ME. NEVER ONE OF MY FAVORITE PARKS, IT WAS AN OK PLACE TO GO FOR A GAME. IN THE EARLY YEARS IT WAS A NEAR IMPOSSIBLE TICKET BUT IT WAS ALWAYS SAID THAT NO ONE WOULD BE TURNED AWAY.
IN THE LATER YEARS TICKETS WERE EASIER TO COME BY BUT THERE WAS
ALWAYS A LOYAL FAN BASE AND CLAUDIA CAR-DI-NAL THE MASCOT. PARKING WAS ALWAYS MORE EXPENSIVE THAN THE LEAGUE AVERAGE AS WERE TICKETS AND CONCESSIONS. DURING THE GAME HOWEVER, THE VIEWS, GAME PROMOTIONS AND
ATMOSPHERE WOULD HELP YOU ENJOY THE GAME. LOOKING BACK, I'D SAY THE NJ CARDINALS DID A PRETTY DECENT JOB IN MAKING YOUR NIGHT OUT ENJOYABLE.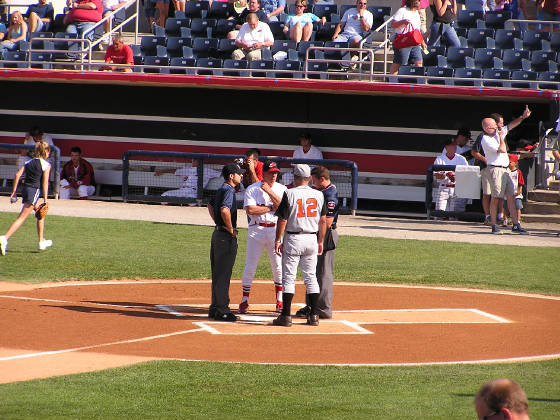 THE LINE UPS
ERIE SEA WOLVES
19 Elton Pollock cf
15 Juan Segura 2b
42 Boomer Whipple 3b
30 Jose Guillen rf
45 Charles Rice 1b
24 Mariano Borges lf
12 Steve Flanigan c
10 Akili Smith dh
2 Chris Miyake ss
38 Elvin Hernandez p
NEW JERSEY CARDINALS
4 Ruben Cardona 2b
3 Miguel Inzunza ss
27 Chris Richard 1b
28 Bret Mueller rf
12 Andy Hall dh
33 Shawn McNally cf
10 Hector Ugueto lf
11 Travis McClendon c
9 Sean Garman 3b
8 Yates Hall p / WP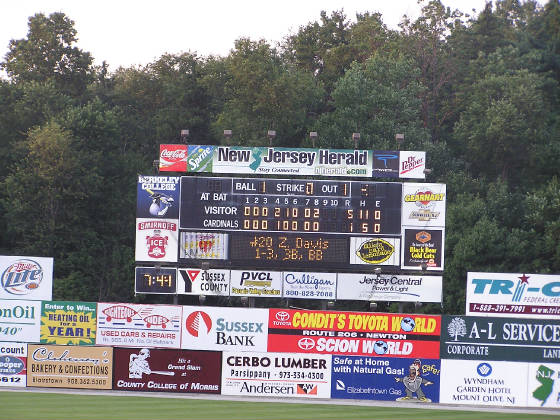 SEAWOLVES 020 000 000 2 2 4
CARDINALS 100 121 21x 8 14 1

TIME ::: 2:28
ATTENDANCE ::: 4,300
WEATHER ::: CLEAR / COOL
SEND ME AN E-MAIL

LINKS
Augusta weather from WEATHER.com