TEAM ::: SCRANTON / WILKES - BARRE RED BARONS
LOCATION ::: MOOSIC, PENNSYLVANIA
MY FIRST GAME ::: JUNE 13,1993
OPPONENT ::: TOLEDO MUD HENS
LEVEL ::: INTERNATIONAL LEAGUE ( AAA )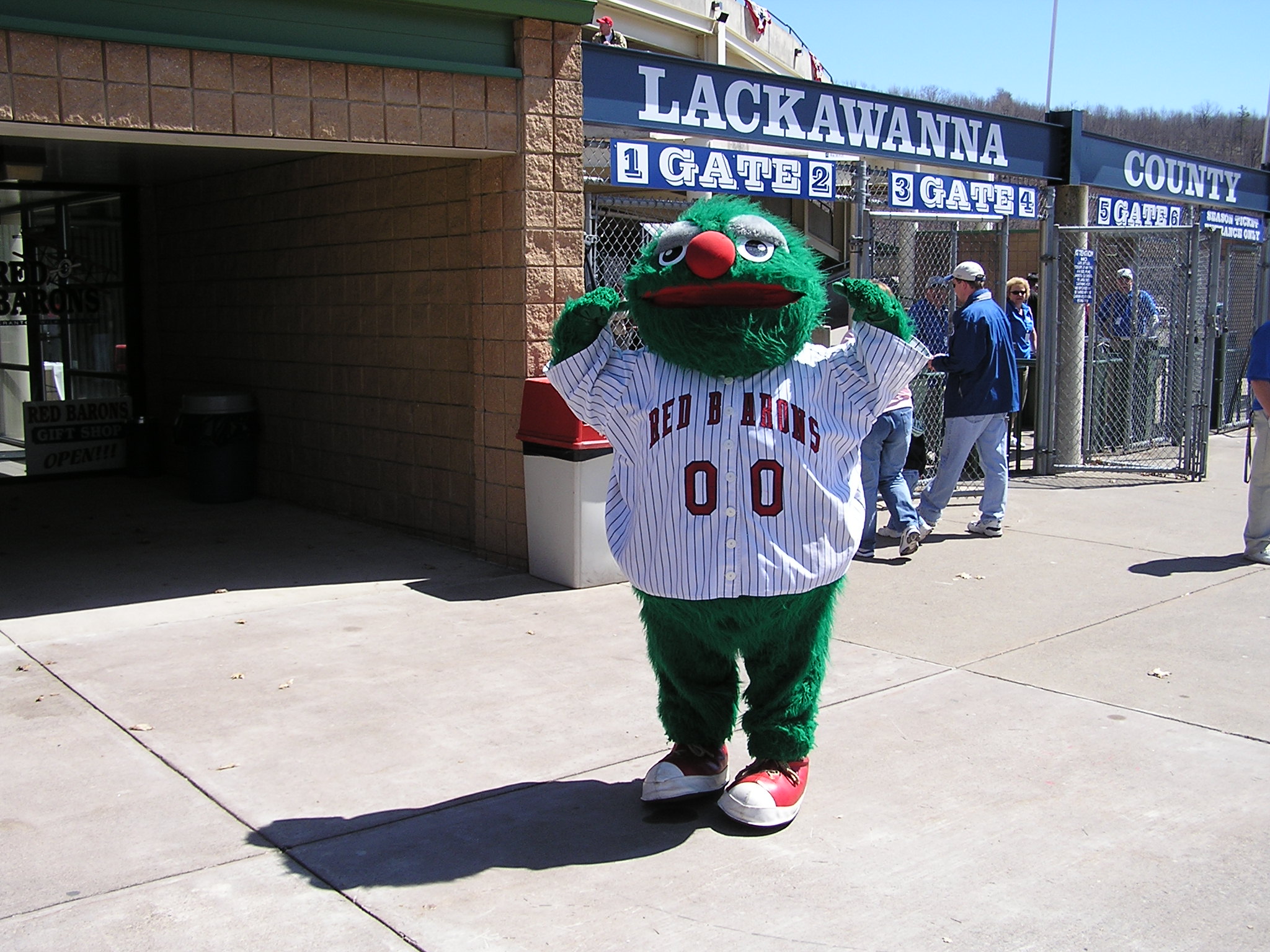 RATINGS
BALL FIELD ::: C
SCOREBOARD ::: A
FOOD ::: B
FACILITIES ::: B
MASCOT ::: B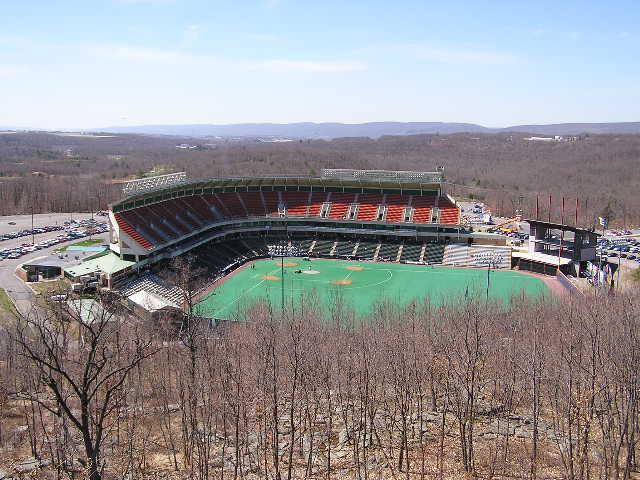 MY TAKE ON THE PARK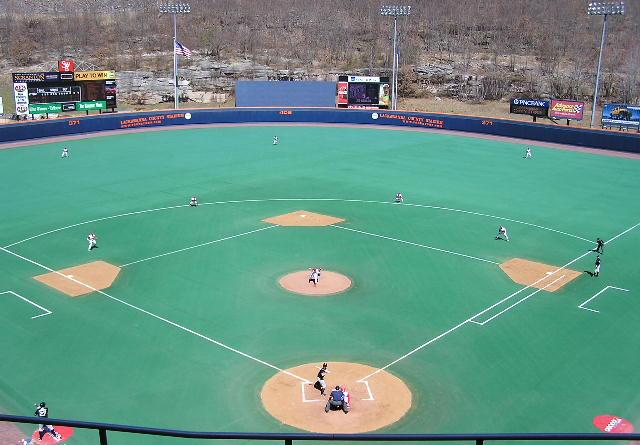 NESTLED AT THE BOTTOM OF THE HILL IN AN EVER EXPANDING AREA OF OFFICE COMPLEXES SITS LACKAWANNA COUNTY STADIUM. THE SIMILARITIES TO VETERAN'S STADIUM ARE ALL OVER THE PLACE, FROM THE OUTSIDE APPEARANCE TO THE FIELD DIMENSIONS, PLAYERS WOULD ONLY KNOW FROM THE SKYLINE THAT THEY WERE IN A DIFFERENT PLACE WHEN CALLED UP TO THE PARENT CLUB. TODAY, LACKAWANNA IS A SCENIC PARK THAT IS THE STANDARD CONCRETE 10,000 SEAT TRIPLE A PARK. THE SCENERY HERE IS BEYOND THE OUTFIELD FENCE WHICH IS A VIEW OF THE WOODS WITH VARIOUS ROCKS PEEKING OUT THROUGH THE TREES.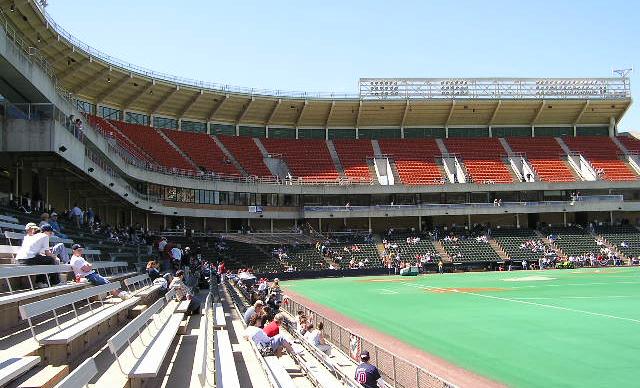 FRIENDLY TICKET TAKERS WELCOME YOU THROUGH THE GATES AND INTO THE DARK CORRIDOR THAT RUNS BEHIND THE LOWER SECTION OR TO THE RAMPS THAT LEAD YOU TO THE UPPER DECK. YOU CANNOT SEE THE GAME FROM EITHER LEVEL WHILE ON LINE AT THE CONCESSIONS.

THE ONLY CHANGE THAT HAS GONE ON INSIDE THE PARK SINCE 1993 IS THEY ARE BUILDING WHAT LOOKS LIKE A PICNIC AREA OVER THE VISITORS BULL PEN

BOTH UPPER AND LOWER DECKS HAVE CHAIRS RUNNING ALL AROUND EXCEPT FOR THE LAST 2 SECTIONS ON EACH SIDE OF THE LOWER LEVEL WHERE THE GENERAL ADMISSION SEATS ARE METAL BENCHES. THE UPPER DECK IS FAR OFF THE FIELD, FOR MINOR LEAGUE STANDARDS, AND IS VERY STEEP.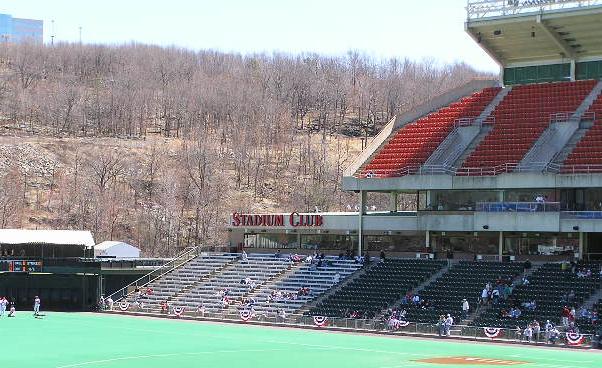 THE FOOD HERE IN SCRANTON IS OK, STANDARD HOT DOG AND PIZZA CHOICES AS WELL AS VARIOUS VENDORS WITH SPECIALTY NUTS AND CARNIVAL SELECTIONS.
FACING RIGHT FIELD IS THE STADIUM CLUB RESTAURANT WHICH SERVES GOOD FOOD WITH A VIEW OF THE GAME. THE CLUB IS OPEN FOR LUNCH DURING THE WEEK.

PARKING HERE IS NOW FREE, THEY UPPED THE TICKET PRICES $1 AND ELIMINATED THE PARKING .. I NEVER LIKED PAYING $1 TO PARK ON GRAVEL.
THE SCOREBOARD IN LEFT CENTER IS 2 OR 3 YEARS OLD WITH A GOOD LOOK TO IT AND IS WRIGLEY FIELD QUICK.


A TRIP TO LACKAWANNA COUNTY IS AN ENJOYABLE ONE WHICH CAN BE EASILY COMBINED WITH A COUPLE OF OTHER TEAMS. LESS THAN 2 HOURS FROM SCRANTON ARE BINGHAMTON (METS) AND THE READING PHILLIES.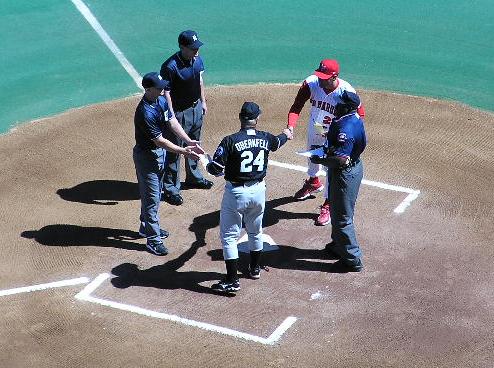 THE LINE UPS
MUD HENS MANAGER::: 7 JOE SPARKS

RED BARONS MANAGER ::: 39 GEORGE CULVER
TOLEDO MUD HENS
26 Ted Williams cf
20 Rico Brogna 1b
12 Rich Rowland c
23 Shawn Hare rf
33 Ivan Cruz dh
17 Richard Ingram lf
9 Rod Robertson 3b
5 Johnny Padres 2b
25 Chris Gomez ss
14 Kenny Carlyle p
31 John Kiely LP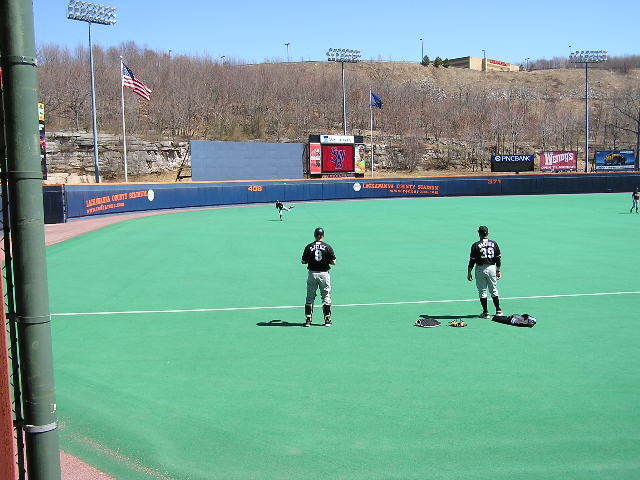 SCRANTON / WILKES - BARRE RED BARONS
33 Ruben Amaro cf
14 Gregg Legg 3b
16 Tony Longmire lf
4 Victor Rodriguez ss
34 Sam Taylor rf
36 Sean Ryan dh
22 Pat Brady 1b
17 Casey Waller 2b
7 Mike Lieberthal c
19 Tyler Greene p
27 Jeff Patterson WP
32 Drew Hall S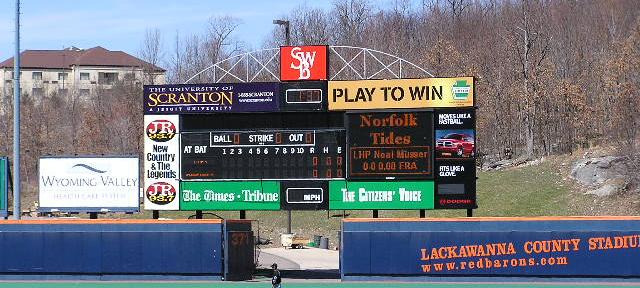 TOLEDO MUD HENS 010 110 300 6 13 2
S/W-B RED BARONS 000 012 05x 8 12 1


TIME ::: 3:07
ATTENDANCE ::: 8,765
WEATHER ::: COOL, CLEAR
SEND ME AN E-MAIL

LINKS
What this park looks like now - My PNC Field site
The Official site of the Scranton / Wilkes-Barre Yankees
Lackawanna Coal Mine Tour site
Moosic weather from WEATHER.com
Site last updated

© 2000-2012 UNCLE BOB'S BALLPARKS
I AM IN NO WAY AFFILIATED WITH ANY OF THE TEAMS ON THIS PAGE ... THIS PAGE IS MEANT FOR INFORMATION PURPOSES ONLY.