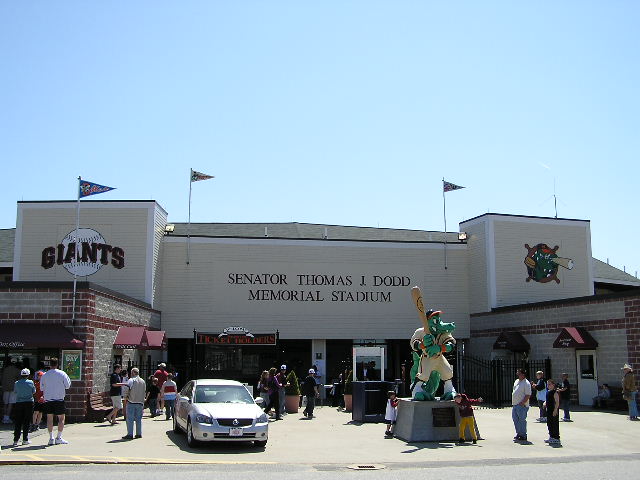 TEAM ::: NORWICH NAVIGATORS
CURRENT TEAM NAME ::: CONNECTICUT DEFENDERS
LOCATION ::: YANTIC, CONNECTICUT
MY FIRST GAME ::: JULY 5, 1996
OPPONENT ::: BOWIE BAYSOX
LEVEL ::: EASTERN LEAGUE 'AA'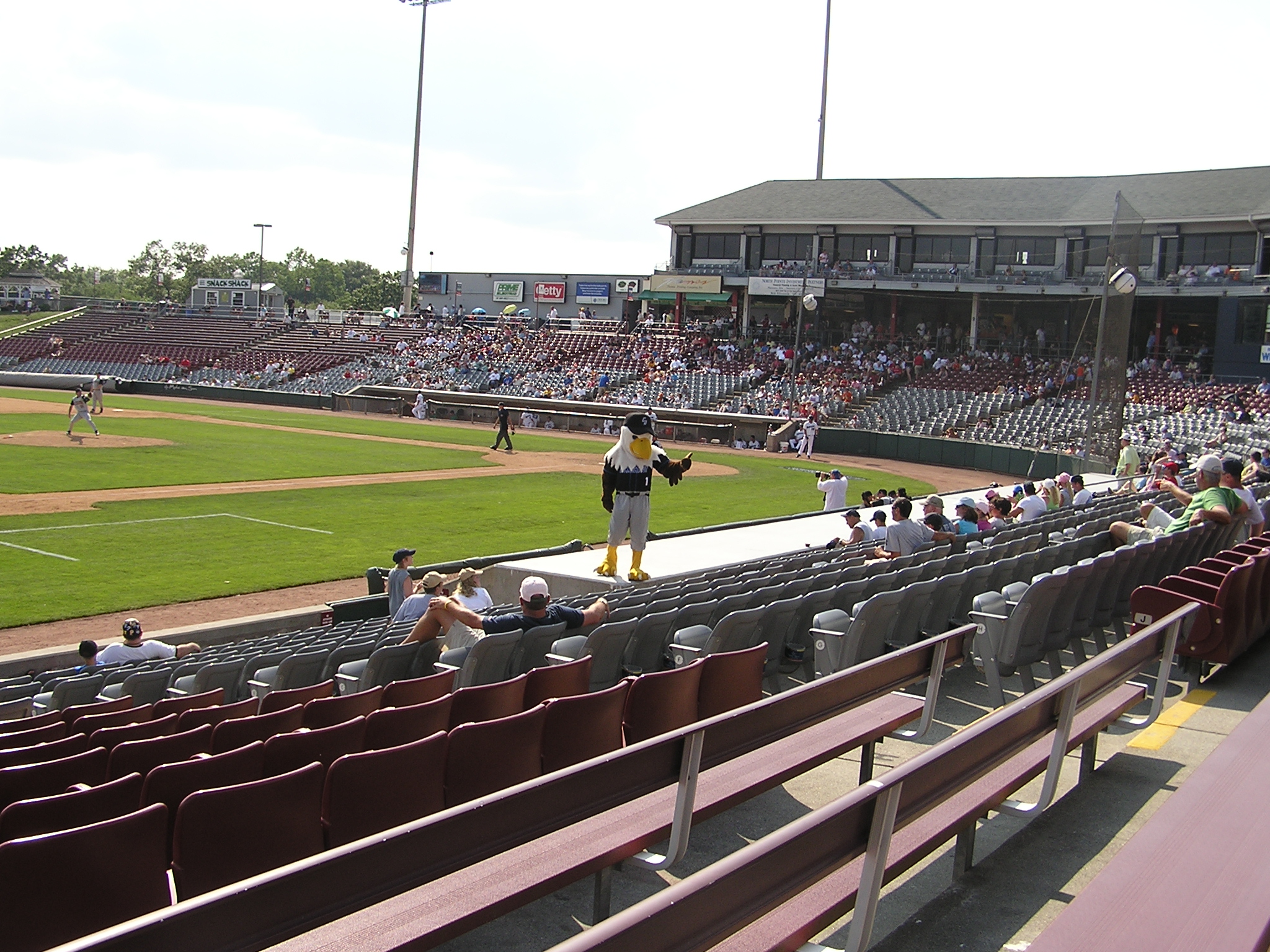 RATINGS
BALLFIELD ::: B-
SCOREBOARD ::: B-
FACILITIES ::: B
FOOD ::: B
MASCOT ::: B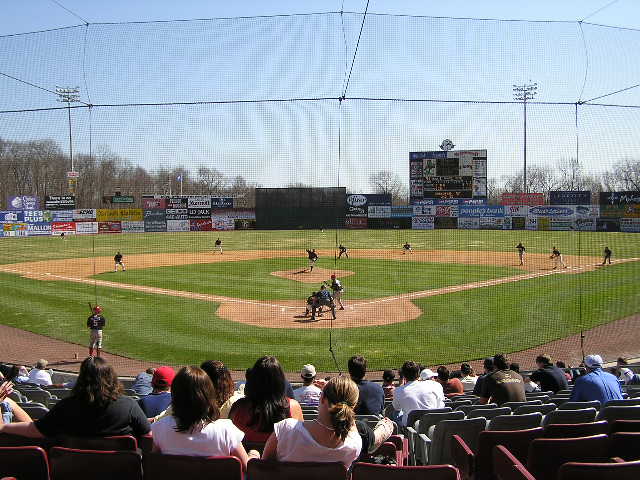 MY TAKE ON THE PARK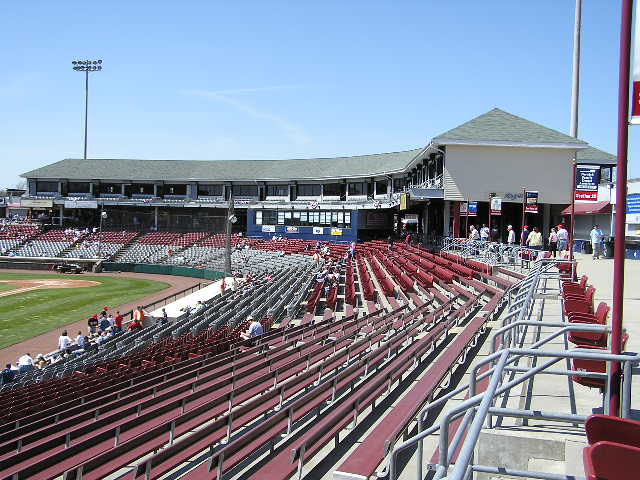 2006 WILL BE AN EXCITING YEAR IN YANTIC, CONNECTICUT. THE NORWICH NAVIGATORS ARE OUT, THE CONNECTICUT DEFENDERS ARE IN! NEW UNIFORMS, NEW MASCOT, NEW NAME, AND A NEW CONCESSIONAIRE!
NEVER A STAND OUT OF THE EASTERN LEAGUE BALLPARKS, IT IS POSSIBLE THAT THE NEW OWNERSHIP IN EASTERN CONNECTICUT CAN DO WHAT THE PEOPLE IN NEW BRITAIN DID, GET PEOPLE BACK OUT TO THE BALLPARK!
THE BEST PART ABOUT THE PROBLEM IS THEY HAVE EVERYTHING READY FOR THE CROWDS TO COME BACK .. THE LOCATION,WHICH WOULD BE AWFUL IF THIS WERE A WINTER SPORT, IS PERFECT FOR BASEBALL. LOCATED IN THE "CONNECTICUT WOODS" OF EASTERN CONNECTICUT AT THE END OF A CLEARLY MARKED MOUNTAIN ROAD.
DODD STADIUM SITS AT THE TOP OF THIS MOUNTAIN BEHIND A LARGE GRAVEL PARKING LOT WAITING FOR FANS TO ENTER. PARKING HAS BEEN FREE FOR THE PAST FEW YEARS, I HOPE WITH ALL OF THE CHANGES THAT PART REMAINS THE SAME. THE ONLY DRAWBACK TO BEING ON THE TOP OF A MOUNTAIN AT THE END OF A SINGLE LANE ROAD IS AT THE END OF THE GAME THERE WILL BE NO RUSHING HOME.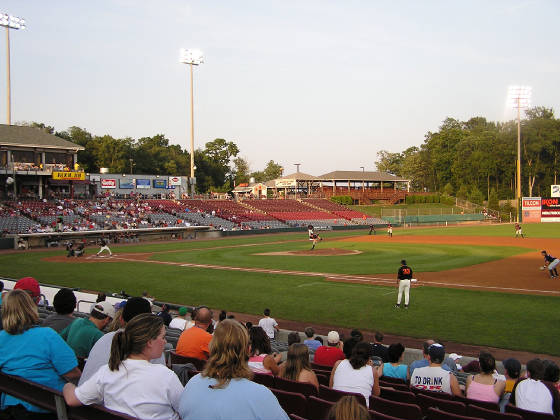 THE STADIUM ITSELF IS A ONE LEVEL STADIUM WITH THE MAIN AISLEWAY AND CONCESSIONS BEHIND THE SEATING AREA. LIKE TRENTON, YOU CAN GET A HOT DOG AND NEVER MISS A PITCH. THERE ARE 3 TYPES OF SEATS HERE. THE VERY COMFORTABLE LUXURY BOX SEATS WHICH ARE LIKE MOVIE THEATER SEATS, CONNECTICUT'S FAMOUS BUCKET SEATS, AND STANDARD METAL BLEACHERS WITH BACKS.

DOWN THE LEFT FIELD LINE IS A PICNIC AREA, WHICH SEEMS TO GET BIGGER EVERY YEAR AND A GRASS HILL, WHICH SLOPES RIGHT INTO THE VISITORS BULLPEN.

THE FOOD HERE ISN'T BAD, THE HOT DOGS DO COME WITH THAT BUN SPLIT DOWN THE TOP, DON'T KNOW WHY ANYONE WOULD LIKE THEIR DOG THAT WAY BUT IN NEW ENGLAND THAT SEEMS TO BE THE WAY. ASIDE FROM STANDARD BALL PARK FOOD, CLAM CHOWDER AND VARIOUS OTHER SOUPS ARE SERVED HERE. THERE ARE FOUR CONCESSION STANDS WHICH ALL SERVE PRETTY MUCH THE SAME THING, ALL ALSO SERVE IT FAIRLY SLOW.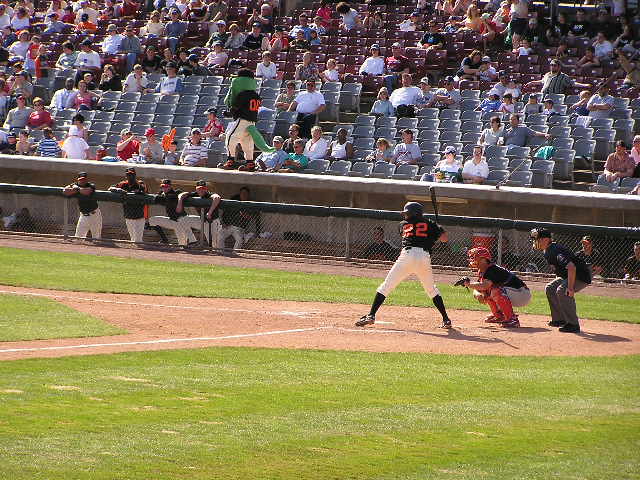 WHEN PLANNING A TRIP TO DODD STADIUM, THE FIRST PLACE YOU MAY GO IS THE DEFENDER WEB SITE (
www.ctdefenders.com
). THE WEB SITE IS EASY TO NAVIGATE AND IS UPDATED IN A TIMELY MANNER. TICKETS CAN BE PURCHASED OFF OF THE WEB SITE. THERE IS A $1.40 PER TICKET CHARGE BUT NOT ONLY CAN YOU PICK YOUR SECTION, YOU CAN PICK THE EXACT SEAT. THIS IS AN OPTION MANY TEAMS HAVE ADDED AND I THINK IT IS GREAT. OUTSIDE OF 'SPECIAL' PROMOTIONS, I HAVE FOUND TICKETS ARE GENERALLY AVAILABLE AT THE GATE, IF THIS IS A LAST MINUTE TRIP IDEA.

WHEN ARRIVING AT THE PARK, THERE IS ONE OF THE GREAT MEETING PLACES IN BASEBALL, THE STATUE OF TATER. TATER, THE MASCOT, MAY BE SEEN AFTER THE GAME SIGNING AUTOGRAPHS IN FRONT OF HIS STATUE.

A TIP ON SEATING, WHEN GOING TO A TWI-NIGHTER ( OR AN EARLY EVENING START) , SIT ON THE FIRST BASE SIDE .. THE SUN SETS RIGHT OVER THE 1ST BASE STANDS AND CAN BE BLINDING WHILE WATCHING THE GAME FROM THE 3RD BASE STANDS.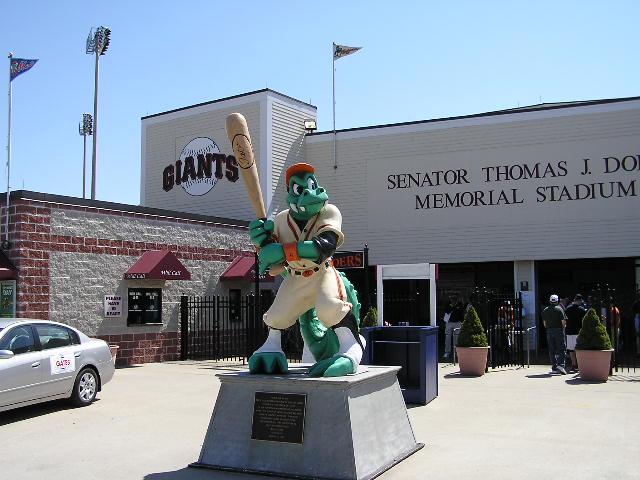 NORWICH IS LOCATED IN A VERY CENTRAL LOCATION AS FAR AS THINGS TO DO ARE CONCERNED.
a) EARLY IN THE SEASON ON SATURDAYS NORWICH PLAYS AT 2PM AND NEW BRITAIN PLAYS AT 6PM ... NEW BRITAIN IS ABOUT 35 MILES FROM NORWICH
b) ON SUNDAYS BEGINNING IN LATE MAY NORWICH WILL PLAY AT 2PM AND PAWTUCKET WILL PLAY AT 6PM ... PAWTUCKET IS ABOUT AN HOUR FROM NORWICH
c) EVERY GAME THERE ARE TWO MAJOR NAVIGATOR SPONSERS THAT ARE JUST WAITING FOR YOU. MOHEGAN SUN IS LESS THAN 20 MINUTES FROM DODD STADIUM AND FOXWOODS IS ABOUT 45 MINUTES. BOTH CASINOS ARE VERY SUCCESSFUL WITH FOXWOODS BEING THE LARGEST IN THE WORLD. MOHEGAN SUN'S RECENT EXPANSION MAKES BOTH VERY GOOD CHOICES.

AT MOHEGAN SUN, MICHAEL JORDAN'S SPORTS CAFE (linked below) HAS VERY GOOD FOOD AND TVs ALL OVER THE PLACE.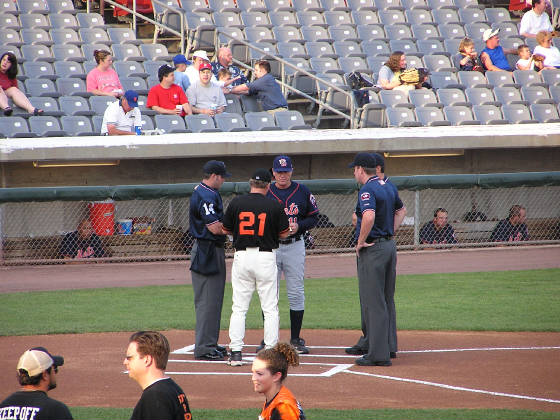 THE LINE UPS
BAYSOX MANAGER :::
9 TIM BLACKWELL

NAVIGATORS MANAGER :::
51 JIM ESSIAN
BOWIE BAYSOX
14 Rolo Avila cf

15 Melvin Rosario c

44 Danny Clyburn dh

20 David Dellucci lf

26 Tommy Davis 1b

6 Fletcher Thompson 3b

28 Kevin Curtis rf

3 Howie Clark 2b

1 Juan Bautista ss

36 Milt Hill p / LP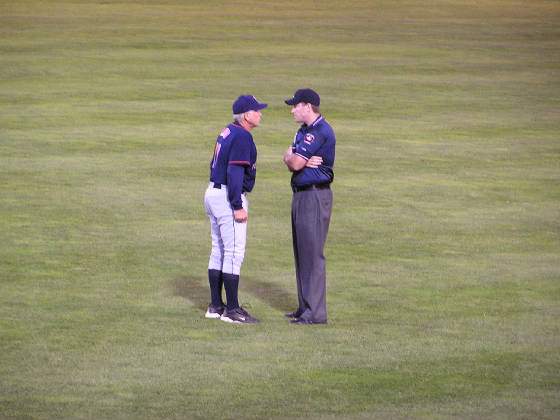 NORWICH NAVIGATORS
41 Kevin Riggs lf
29 Kevin Northrup rf
22 Kinnis Pledger cf
28 Shane Spencer dh
5 Tate Seefried 1b
33 Dan Donato 3b
39 Jaime Torres c
30 Eric Knowles ss
21 Robert Hinds 2b
35 Rafael Medina p / WP
27 Mike Kotarski S
BOWIE BAYSOX 010 020 0 3 6 0
NAVIGATORS 112 000 x 4 7 2

TIME ::: 1:58
ATTENDANCE ::: GAME 1
WEATHER ::: 85 / NO HUMIDITY

BOWIE BAYSOX 030 000 01 4 6 0
NAVIGATORS 100 000 20 3 7 3

TIME ::: 2:43
ATTENDANCE ::: 4,019
WEATHER ::: 71 COOL, DAM
SEND ME AN E-MAIL

LINKS
The Official web site of the Connecticut Defenders
Michael Jordan's Sports Cafe (located inside Mohegan sun)
Foxwoods Resorts Casino Web Site
Norwich weather from WEATHER.com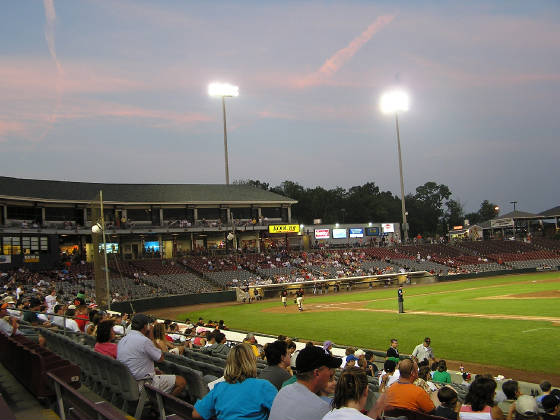 Site last updated

© 2000-2012 UNCLE BOB'S BALLPARKS
I AM IN NO WAY AFFILIATED WITH ANY OF THE TEAMS ON THIS PAGE ... THIS PAGE IS MEANT FOR INFORMATION PURPOSES ONLY.